Does A Temperature and Humidity Data Logger Need To Be Used For Coffee Bean Storage?
Author:Freshliance
Update time:2022-11-24
Hits:
---
The answer is YES absolutely. Green coffee is extremely porous and easily absorbs flavors and aromas, which means it's important to be careful during storage and transportation. Producers, buyers, and roasters shouldn't overlook factors such as humidity and temperature. Freshliacne BuleTag series bluetooth temperature and humidity data logger can monitor environmental factors during the transportation and storage of coffee beans in case they go bad.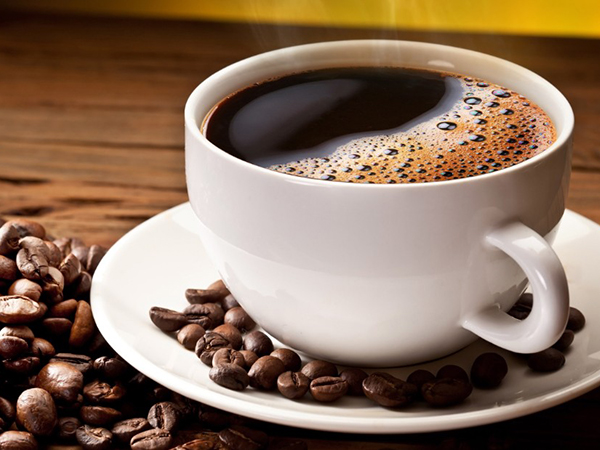 In many parts of the world, growers only harvest coffee once a year. After the bagging process, growers ship the unroasted coffee to their customers, who store the green beans until they need them for production. To avoid mold growth and other quality losses that occur with time, coffee should remain in a climate-controlled environment. Coffee storage experts agree that humidity and temperature are among the most important variables.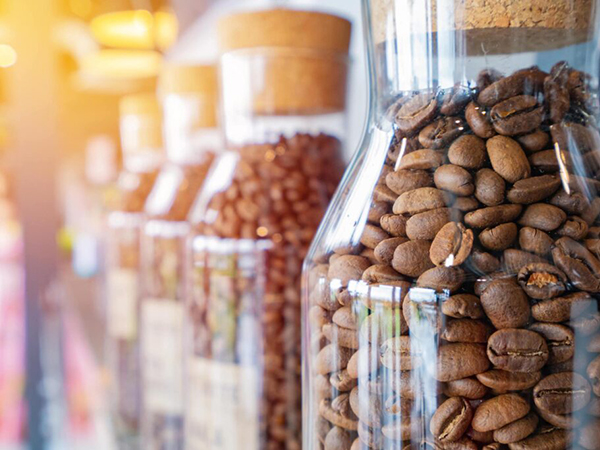 The ideal temperature range for coffee storage is 20-25°C (68-77°F). Temperature impacts coffee by modifying water activity inside the bean. Changes in the energy status of the water molecules in coffee can affect flavor and freshness. In some conditions, vast fluctuations in temperatures can cause condensation inside a bag of coffee, which can ruin coffee. Similarly, studies have shown that environmental humidity, the measure of how much moisture is in the air, can affect coffee by traveling in and out of bags of coffee. Too much humidity can also cause mold or mildew growth, ideal relative humidity (RH) is 60%.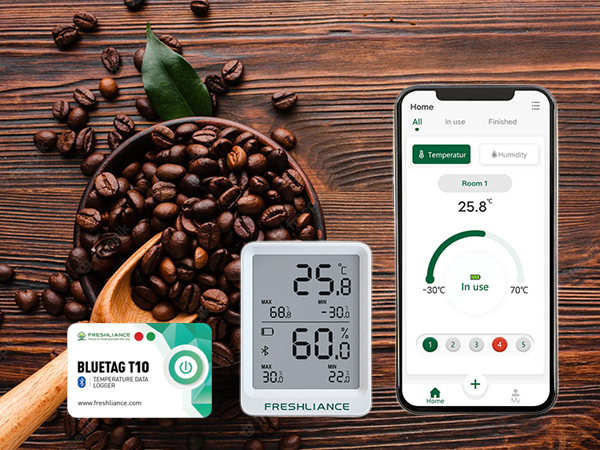 Freshliacne BuleTag T10 bluetooth temperature data logger and BlueTag TH20 Freshliance BlueTag T10 Bluetooth temperature data logger and BlueTag TH20 temperature and humidity data logger could be the optimal solution for the transportation and storage of coffee beans. BlueTag T10 wireless temperature sensor is designed for transportation temperature monitoring. This bluetooth temperature sensor features a compact design to save space during transportation. You can place this temperature data logger with your coffee beans cargo. BlueTag TH20 wireless temperature and humidity sensor is specially researched and designed for refrigerator, warehouse and other indoor environmental monitoring scenes. This temperature humidity data logger comes with a large LCD screen for detailed information display. This temperature and humidity logger can be placed inside the storage room. After downloading our T-Keeper APP in the Google Store and connecting the logger to the APP, you can preset all parameters on your phone, including alarm points, which will assist you greatly in finding the abnormal temperature and humidity during coffee beans transportation and storage. Besides, thanks to its Bluetooth function, the bluetooth temperature logger can achieve remote monitoring. You can check data and reports on your phone.