COEUS-UEX- Ultra Low Temperature and Humidity Data Logger FAQ
Author:Freshliance
Update time:2022-03-21
Hits:
---
COEUS-UEX is a reusable, battery rechargeable, user programmable and high-accuracy ultra low temperature and humidity data logger with large temperature humidity display. It has external probe with wire of 2 meters, can measure the temperature of most extreme environments. The built-in PDF / CSV file generation function enable this multi-use Thermometer Hygrometer to directly generate irreversible data reports in PDF / CSV format by connecting the logger with the PC, no software required. It can be used to monitoring temperature and humidity in storage, transportation, medical industry, biological laboratory, etc.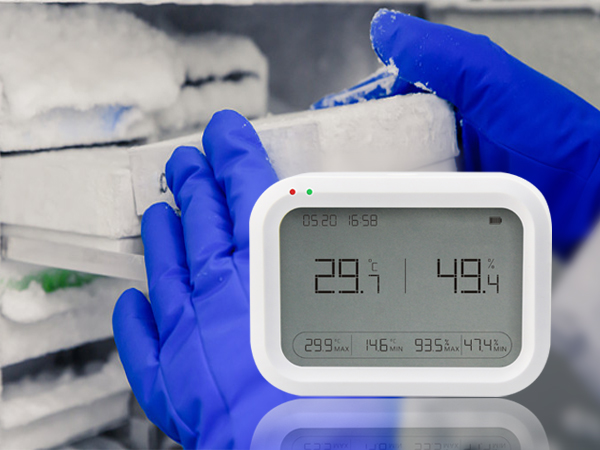 Quick Ask, Quick Answer
Q: Is it single use or multi-use?
A: Multi-use.
Q: Does it has a LCD display?
A: Yes.
Q: Will the real-time temperature value be displayed on the screen?
A: Yes.
Q: Does it have Mark points?
A: Yes, up to 9 Mark points.
Q: Can the battery be replaced?
A: No, but the battery is rechargeable.
Q: How to export data?
A: Connect it with the computer to automatically generate PDF/CSV reports reports.
Q: Can the PDF report be modified ?
A: No.
Q: Is any software required?
A: No software required.
Q: Are parameters configurable?
A: Yes, you can use configuration software to configure parameters..
Q: How does the logger send an alarm?
A: 6 alarm points are available to set. If the temperature exceeds the preset value, it will send both audio and visual alarm.
Q: Is the recording interval optional?
A: Yes, 10 seconds- 2 hours are available to choose.
Q: How long is the run time?
A: Max. 180 days for external probe and Max. 500 days for inner probe.
Q: Can humidity be recorded?
A: Yes, and humidity accuracy is 3%。
Q: What is the measured temperature range?
A: -30℃~+55℃ (Internal probe); -90℃~+200℃/-200℃~90℃(External probe).
Q: How much can its temperature accuracy be controlled?
A: ±0.5℃(-90℃~+70℃/-22℉~158℉); ±1℃(-200℃~+70℃).
Q: What certification has it passed?
A: CE, RoHS.
Q: Where can it be applied to?
A: Pharmaceuticals industry and biochemical laboratories, like the preservation of drugs, blood serum and chemical reagents. Production plants, warehouses and clean workshops in many electronic industries. Agricultural research, museums and archives, etc.