Blood Cold Chain- Relay Race of Saving Lives
Author:Freshliance
Update time:2022-07-13
Hits:
---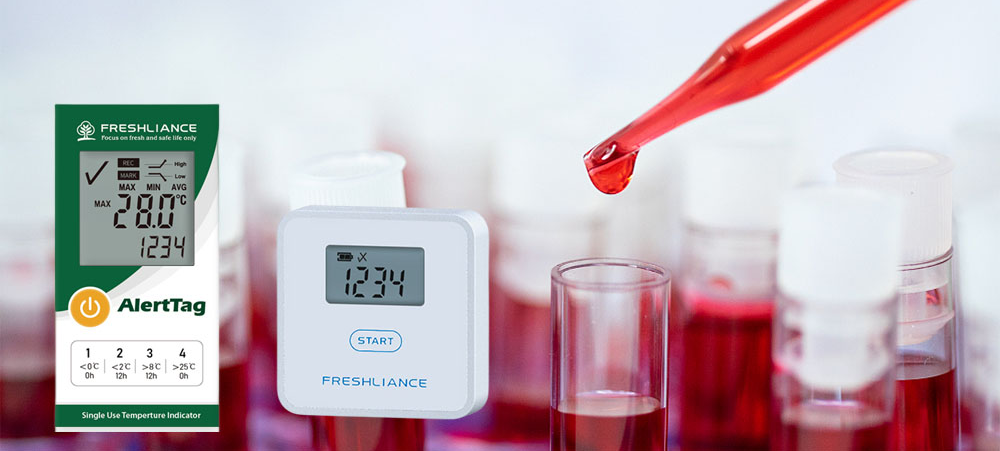 The blood cold chain begins the moment the blood is collected and continues until it is transfused. That means a relay race of saving lives starts when the blood is collected from the donors in blood transfusion center, hospital blood bank or mobile blood collection station. Until the blood is taken to a laboratory for testing and processing into components and for storage and distribution as the need arises.
Blood is collected at body temperature, i.e. +37℃. But in order to maintain its vital properties, it must be cooled to below +10℃ to be transported and stored at refrigeration temperatures of around +4℃until use. If blood is stored or transported outside of these temperatures for long, it loses its ability to transport oxygen or carbon dioxide to and from tissues respectively upon transfusion. There will be the risk of bacterial contamination if blood is exposed to warm temperatures. Conversely, blood exposed to temperatures below freezing may get hemolysed and can lead to a fatal transfusion reaction. So temperature monitoring plays an extremely important role in the blood cold chain process.
For the different blood components, there are different transportation and storage requirements. Whole blood and packed red cells must always be stored at +2℃ to +6℃ and transported between +2℃ and +10℃. The optimal storage temperature for conditions for fresh frozen plasma and cryoprecipitate is–30℃, and they must always be frozen solid. Platelets must be stored at +20℃ to +24℃ with constant agitation and transported at temperatures within this range.
It is important to use a temperature monitor during transportation in order to check temperature ranges on receipt of the shipment. Freshliance's AlertTag T10 and AlertTag T20 Disposable Temperature Monitor/Indicator are mainly developed for the life and science industry, including blood cold chain transportation, vaccine, bio-pharmaceuticals, biological samples, diagnostic reagents, biological reagents, molecular reagents, COVID-19 reagents, cell biology agents or any temperature sensitive products shipment monitoring.

The AlertTag T10 and AlertTag T20 Disposable Temperature Monitor/Indicator have passed CE certification and EN12830 compliant, and the protection grade is IP68. They are small, thin and light. During blood cold chain transportation and storage, you can directly stick them inside the blood transport box to monitor temperature change.
Their user-friendly LCD display can view the Max. and Min. temperature, current temperature value and alarm status, which enable immediate and easy decision-making. You can preset up to 4 alarm settings - two groups of high and low alarms. When the temperature exceeds the preset value, the corresponding alarm point 1, 2, 3 or 4 will be displayed.
The AlertTag T10 and AlertTag T20 Disposable Temperature Monitor/Indicator's electronic designs are precise and reliable. They feature a built-in Japan-made smart thermometer sensor, with a measuring accuracy of ±0.5°C. They also come with a wide temperature measurement range from -30℃ to +70℃. Besides, they can work for up to 180 days.
All those features above of AlertTag T10 and AlertTag T20 Disposable Temperature Monitor/Indicator make them meet all temperature monitoring needs of the blood cold chain.