BlueTag T20 HACCP Bluetooth Temperature and Humidity Data Logger FAQ
Author:Freshliance
Update time:2022-03-21
Hits:
---
BlueTag T20 HACCP Bluetooth temperature and humidity monitor is a multi-use, user programmable, battery replaceable and high precision HACCP temperature sensor hygrometer with large LCD screen. With the Bluetooth App software provided by our company, you can quickly and accurately set various parameters of the product. Bluetooth Connection through APP, you can read the temperature data by APP on your phone. It is widely used in various industries that monitor environmental temperature, like in house, laboratory, museum, warehouse, pharmacy or other places.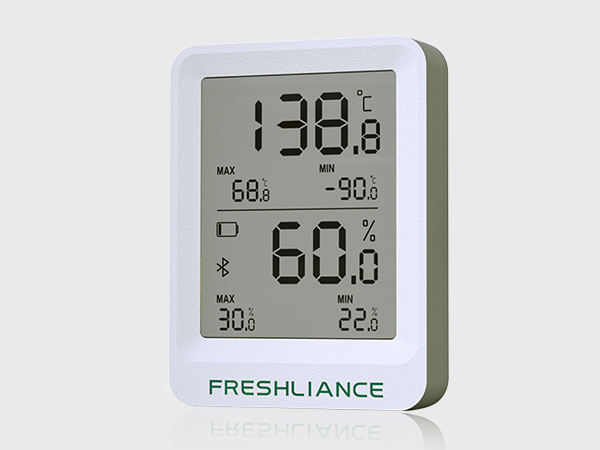 Quick Ask, Quick Answer

Q: Is it single use or multi-use?
A: Multi-use.
Q: Does it has a LCD display?
A: Yes.
Q: Are parameters configurable?
A: Yes, they can be configured on APP by Android phone.
Q: Will the real-time temperature value be displayed on the screen?
A: Yes.
Q: Can the battery be replaced?
A: Yes.
Q: How to export data?
A: Automatically generating DPF and CSV report on the APP, you can check any time.
Q: Can the PDF report be modified ?
A: No.
Q: Is the recording interval optional?
A: Yes, 1min - 99mins are available to choose.
Q: How long is the run time?
A: Max. 200 working days.
Q: Can humidity be recorded?
A: Yes, and humidity accuracy is ±3%.
Q: What is the measured temperature range?
A: -30℃~+70℃/ -22℉~158℉.
Q: How much can its temperature accuracy be controlled?
A: ±0.5℃/0.9℉(0℃~+60℃/32℉~140℉; ±1℃/1.8℉(Full range).
Q: What certification has it passed?
A: CE, CE-RED, EN12830.
Q: Where can it be applied to?
A: Low-temperature logistics, indoor temperature and humidity detection, refrigerator food preservation, pet breeding, flower breeding, musical instrument maintenance, pharmacy medicine cabinet, vaccine storage, hospital ward environment monitoring, drug storage, experimental material storage, experimental environment testing, warehouse environment detection, food storage monitoring, machine room and workshop environment detection.