Fresh Keeper - USB Temperature and Humidity Data Logger
Author:freshliance
Update time:2022-03-21
Hits:
---
Multi-use Reusable Temperature Humidity Data Loggers Recorders USB PDF with Display is our newly designed USB temperature data logger, applying widely in transportation for refrigerated containers, frozen food, fish, cold storage fields, etc. You can record the temperature data during transportation and check it on PC very easily. The humidity and temperature recorder is ideal for monitoring the temperature and humidity in transport, storage and testing process.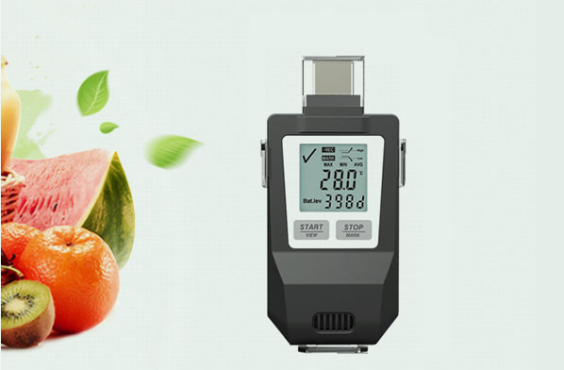 Quick Ask, Quick Answer
Q: Is it single use or multi-use?
A: Multi-use.
Q: Does it has a LCD display?
A: Yes.
Q: Will the real-time temperature value be displayed on the screen?
A: Yes.
Q: Can the battery be replaced?
A: Yes.
Q: Does it have Mark points?
A: Yes, up to 9 Mark points.
Q: How to export data?
A: Directly insert into the USB port of the computer to automatically generate PDF report.
Q: Can the PDF report be modified ?
A: No.
Q: Is any software required?
A: No software required, automatically generating PDF report.
Q: Are parameters configurable?
A: Yes.
Q: Is the recording interval optional?
A: Yes, 10 seconds- 2 hours are available to choose.
Q: What is the maximum number of working days?
A: Up to 400 days.
Q: Can humidity be recorded?
A: Yes.
Q: What is the measured temperature range?
A: -30℃–+70℃/ -22℉~158℉
Q: How much can its temperature accuracy be controlled?
A: ±0.5℃/0.9℉(0℃–60℃/ 32℉~140℉); ±0.1℃/1.8℉(full range).
Q: Is the product waterproof?
A: It has waterproof package comply with IP67.
Q: What certification has it passed?
A: CE, RoHS and comply with EN128390.
Q: Where can it be applied to?
A: Cold chain logistics, cold storage, pharmacy, seafood, fruits and vegetables, food and produce, shipping reefers, wine cellar, greenhouse, basement, etc.