Fresh Tag 1D-LCD Single Use Temperature Data Logger FAQ
Author:freshliance
Update time:2022-03-21
Hits:
---
Fresh Tag 1D is a LCD Single Use Temperature Data logger with PDF Report, has cost-effective design and low consumption. Besides, it has LCD indication. It is the best solution for the temperature-sensitive goods to monitor the temperature during the entire cold chain transportation to minimize the loss of perishable products. And ideal for pharmaceuticals, frozen and fresh foods, fruits and vegetables, seafood, cold storage, etc.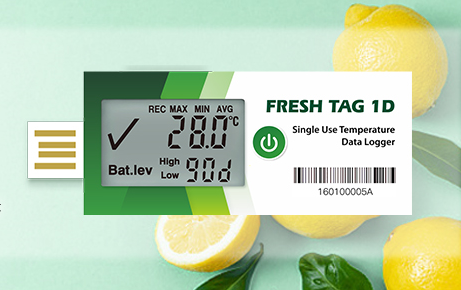 Quick Ask, Quick Answer
Q: Is it single use or multi-use?
A: Single use.
Q: Does it has a LCD display?
A: Yes.
Q: Will the real-time temperature value be displayed on the screen?
A: Yes.
Q: Can the battery be replaced?
A: No.
Q: How to export data?
A: Directly plug into the USB port of the computer to automatically generate PDF report.
Q: Can the PDF report be modified ?
A: No.
Q: Is any software required?
A: No software required, automatically generating PDF report.
Q: Are parameters configurable?
A: No.
Q: Can the detailed temperature data be got?
A: Yes.
Q: Can humidity be recorded?
A: No.
Q: What is the measured temperature range?
A: -30℃–+70℃/ -22℉~158℉
Q: Is the trip days optional?
A: No, its run time up to 90 days.
Q: Is the product waterproof?
A: It has waterproof package comply with IP67.
Q: What certification has it passed?
A: CE.
Q: Where can it be applied to?
A: Cold chain logistics, cold storage, the transportation and storage of frozen food , seafood, fruits and vegetables.
Q: Where can it measure the temperature?
A: Refrigerated truck, constant temperature box, incubator, laboratory equipment, sample cabinet, environmental test box, etc.